The Fryingpan-Arkansas Project provides water from the Fryingpan River to the Arkansas River Basin, which includes cities such as Aurora and Colorado Springs. Water from the headwaters of the Fryingpan River is carried through a series of diversions structures, specifically the Charles H. Boustead Tunnel and the Busk-Ivanhoe Tunnel, which empty into Turquoise Lake near Leadville. Currently the Fryingpan-Arkansas Project diverts about 58,000 acre feet of water, annually.
The Project is managed by the U.S. Bureau of Reclamation and Southeastern Colorado Water Conservancy District.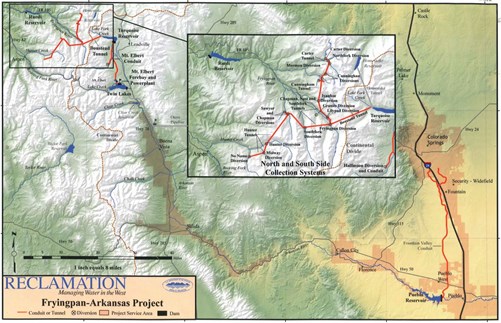 MAP OF FRYINGPAN-ARKANSAS PROJECT
To the right is a map of the collection systems for the Fryingpan-Arkansas Project.
(Click on it to enlarge.)
Circles with Xs represent diversion points
Red lines represent tunnels or canals that move water
Brown dashed line represents the Continental Divide.