Dear friends,
Thank you to everyone who made a donation to benefit your rivers in 2022! Thank you for your support as we continue to inspire people to explore, value and protect the Roaring Fork Watershed. You make our work possible and we are so grateful!
Rick Lofaro, Executive Director



Thursday, January 5, 2023 * 5-7pm at Basalt Regional Library 
A Lower Basin Perspective on the State of the Colorado River
a presentation by 
Kathryn Sorensen, Ph.D., Director of Research & Professor of Practice, Kyle Center for Water Policy at Morrison Institute at Arizona State University
The Colorado River water imported into the desert cities of Phoenix and Tucson via the Central Arizona Project canal is low-priority water that is cut first in times of shortage. Next year, Arizona will lose around 40% of this water. As former Director of Phoenix Water, Dr. Sorensen will discuss how shortage on the Colorado River impacts cities, tribes, and agriculture in Central Arizona, how the largest cities in Arizona manage their water resources, and how Arizona will continue to write its water future. 
This program is FREE but registration is required. Register at http://www.roaringfork.org/events/. 
Thursday, January 19, 2023 * 5-6:30pm at Basalt Regional Library 

Partnering With Beavers to Restore Colorado's Mountain Wetlands
a presentation by 
Mark Beardsley, Founder of Ecometrics
Wetland riverscapes were severely degraded when beavers, a quintessential keystone species, were hunted to near extinction during the fur trade of the colonial era. Even though the fur trade ended abruptly two centuries ago, beaver populations have been slow to recover and the wetlands remain impoverished. Can we restore these valuable habitats mimicking, promoting, and sustaining the keystone natural aquatic ecosystem engineer? With recent examples from the Colorado mountains, this talk explores how we are learning to partner with beavers to restore wetland riverscapes.
This program is FREE but registration is required. Register at http://www.roaringfork.org/events/.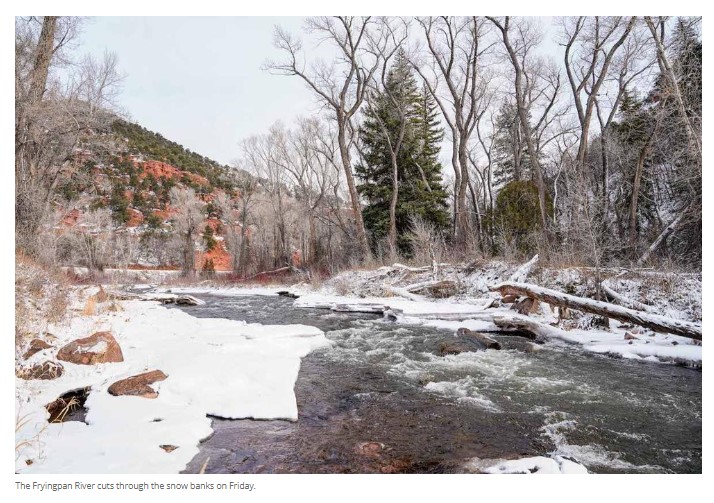 Special winter releases will benefit trout and bugs on the Fryingpan River

"An innovative program is releasing a little more water from Ruedi Reservoir dam this winter to provide a lot of environmental benefits on the 14 miles of the lower Fryingpan River.
Multiple local and statewide groups have teamed to raise the funds necessary to lease water from Ruedi and increase the flow on the lower Fryingpan River between Dec. 16 and March 1. The goal is to keep the winter flow high enough to diminish the build-up of anchor ice on the stream bottom.
"Really, it's about adding the most important ingredient to the river — which is water," said Rick Lofaro, executive director of the Basalt-based Roaring Fork Conservancy. "Less ice and more water just makes more available habitat, whether you're a caddisfly, a sculpin or a trout in the Fryingpan River."

Read the rest of the article here.
This project was also highlighted on Denver's 9News show Next with Kyle Clark. Watch the segment starting at 11:11. 

City Market Rewards for your Rivers!
If you have a City Market loyalty card, supporting your watershed is as easy as 1-2-3!
1) Click enroll and log in to your account at www.citymarketcommunityrewards.com
2) Search for Roaring Fork Conservancy or CV113
3) Click Enroll and you're ready to support your rivers while you run errands! 
Learn more at: https://www.citymarket.com/account/enrollCommunityRewardsNow/


JANUARY SPOTLIGHT BUSINESS MEMBER:

It's about community

Jordie became a Realtor for one reason: her love for the Aspen/Snowmass community.

Part of what makes this area special is the supportive, tight-knit community, which is why she adheres to the "give where you live" philosophy. Jordie sits on the board of the Aspen Valley Ski and Snowboard Club, is a member of Roaring Fork Conservancy's River Stewards Committee, and is actively involved in the Teddy Karlinski Memorial Golf & Snowboard Scholarship Funds, which her family established after her brother's sudden passing in 2016.
She's passionate about the long-term well-being of Aspen/Snowmass, our unique community, and the many clients she is lucky to work with. Jordie relishes the chance to help new residents find their own slice of heaven, settle into the community, and learn how to protect and preserve this beautiful valley they fell in love with.

jordie.karlinski@compass.com | 970-274-1255 | www.jordiekarlinski.com
Thank you for helping protect our rivers and streams!